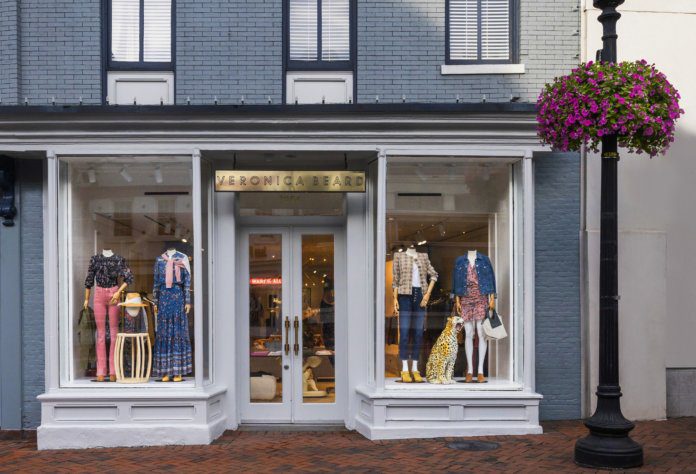 As national-brand retailers declare bankruptcy across the United States and the coronavirus pandemic has triggered the worst economic contraction since the Great Depression, the commercial real estate sector in Georgetown has not been immune to recent market downturns. Given Georgetown's unique market advantages, however, local business leaders are optimistic about the area's long-term prospects for recovery and the positive transformations to Georgetown's livability that could result.
While the loss of national retail chain stores has been disruptive, new seeds have been planted for smaller, more vibrant, locally connected and well-positioned businesses. Entrepreneurs who can take advantage of the creative destruction in the marketplace with flexible and innovative responses of their own will likely survive and prosper.
To reduce retail vacancies and keep their tenants in place, landlords have shifted to new types of leasing arrangements with smaller ventures, divided up their larger spaces to make room for more promising niche businesses and invested in their new tenants as incubation projects they hope will eventually thrive and, critically, be able to pay full rent.
COMMERCIAL AGENTS WEIGH IN
"The landlords are faced with this dwindling revenue base they've got to work through. And the smart ones are saying, 'Okay, we'll work with smaller start-ups," said Bruce Baschuk, chairman of Georgetown-based J Street Companies, one of D.C.'s top property management, leasing and development companies.
"So maybe now, in our big space, we've got five, six or seven start-ups and they're paying me on a monthly basis based on how they're doing to see if they can get their business going," Baschuk said. "The larger space has now turned into more of a place where you'll see experimentation going on with new tenants and new ideas."
Now, instead of five- or 10-year leasing arrangements and the huge capital costs of transforming spaces for large retailers, landlords are helping more start-ups try to launch within the old big-box spaces. "The tenants are putting in what they need and starting these businesses on a shoestring," said Baschuk, "and if they make it, they can share in the upside with the landlords down the road and pay higher rents and maybe build out their space."
As a university town, Georgetown has powerful market potential for supporting creative start-ups, Baschuk believes. "Colleges started thinking, 'We have all this intellectual capital, so let's start putting it to work.' So they started these small incubators off campus. Well, that's been the genesis of a tremendous amount of new start-ups in Georgetown," he said.
New opportunities for nimble start-ups and renewed community vibrancy have also been fueled by dropping commercial rents during the recession. Creative planners, developers and community advocates have seen how small-scale local commerce can enhance the desirability of neighborhood shopping areas."
If you go to Grace Street," Baschuk said, "there's a landlord who started there years ago who has done quite well. … When rental costs go down, it creates opportunities for other people to get in and start. So we've already seen some success stories. … There's the Dog Tag Bakery and a couple of small eateries that were in this tiny little space that nobody knew what to do with for years. The landlord there chopped it up and said, 'Look, you guys are going to share the space.' It's really very creative. So you're going to see more and more of that."
For Baschuk, Georgetown, with its "meandering, funky alley system," and the unique opportunities presented by the revitalization of the C&O Canal, has the potential to transform its market spaces to become more like those in a charming European city. He envisions tiny shops of "100 square feet selling all sorts of interesting and unusual items," attracting bicycle and foot traffic instead of vehicle congestion.
John Asadoorian, CEO and founder of Asadoorian Retail Solutions in Georgetown, has been working to revitalize local retail in the District and Georgetown for 35 years. For Asadoorian, a native of the area, the transformative nature of the current crisis presents a possible way out of the stultifying "mallification" of Georgetown he has observed since the late 1980s, resulting in what he calls the "generica" of the American shopping landscape.
"What is it that makes you go to a store when we're in a Sea of Generica?" Asadoorian asks, "where everywhere you go you see the same thing?" To remedy the blandness, Asadoorian strives to promote retail that will bring unique, locally-relevant experiences to neighborhoods and customers. Asadoorian seeks tenants who bring "authenticity, independence, an organic quality, and … who have a story to tell — a story that is going to compel the consumer."
Asadoorian, too, sees a new creativity in the Georgetown retail marketplace. "If there's a vacant space, most of the property owners are acknowledging that the market's not going to get better tomorrow. So instead of asking for the rent I was getting, I need to be flexible and find a way to be creative to put a tenant in place who may be able to survive, build a business and reflect what will be the new Georgetown," he said. Instead of demanding fixed monthly rental payments from tenants, owners are creatively adapting "percentage of sales" terms. "If you don't make any money, you don't pay any rent, and let's see if you can incubate a business. And if you do, let's sit down in a year" — and renegotiate.
In the near term, Asadoorian sees Georgetown as particularly vulnerable to the decline of national retailers. However, he believes positive signs are on the horizon. Due to the "billboard effect," he said, national retailers with an online presence, such as Warby Parker, will still want to "plant their f lags" in smaller spaces in Georgetown. Also, the local demographics are beginning to skew younger, ushering in new demand and vitality in the marketplace.
While Asadoorian does not believe national retail brand stores are a thing of the past in Georgetown, he sees many more locally relevant ventures popping up in place of those that have left. He is currently in discussions with various retailers about the former M Street site of troubled national chain store Lucky Brand. "Some of them are local, independent and family-owned," he said, while "some of them are national." The key concern for the landlord, however, is that "the tenant has got the kind of value that we all agree is going to be good for Georgetown" when it comes out of the pandemic crisis. "That's how the market is adjusting," he said.
"Georgetown is not suffering so much as changing," Asadoorian said. During the recession of 2008, he recalled, "there were a lot of vacant storefronts … and people were bemoaning the demise of Georgetown. But I was heralding the fact that the empty storefronts were opportunities to create anew." Georgetown "is a village — an authentic, organic neighborhood," he said, and he hopes the disruptive new trends help restimulate the town's livability.
Philippe Lanier, principal at EastBanc, is also optimistic about Georgetown's longer-term commercial real estate trends. With over $4 billion invested worldwide, his firm, specializing in revitalization and urban mixed-use development, has played a key role in shaping the District's commercial real estate landscape. With its partners, EastBanc controls 65 to 70 percent of Georgetown's commercial real estate market, he said.
Lanier, who grew up in D.C., believes that Georgetown "will see a bit of a shift to focus more on local" commerce, "just as other cities will," in the wake of the economic disruption. However, he said, "we're going to enjoy what we've always enjoyed, that Georgetown is a place to visit for locals, not only because you can buy something on the main street, but because of the history, because of the proximity to the waterfronts, because of the culture that's nearby," he said on a recent podcast with Laura Calugar of Commercial Property Executive.
As the seat of government, an emerging high-tech hub, one of the "largest assemblages of cotenancy and urban retail" in the country and one of the nation's top-five markets, D.C. should be on the path to recovery before too long, Lanier believes. "Despite the challenges in the industry," he told Calugar, "we have seen a lot of brands and their brokers contact us and look for spaces to open a new store in the next 18 months. So, the longer-term picture is quite positive."
EastBanc is looking for creative solutions during the crisis to help keep tenants in their spaces and businesses afloat, Lanier told The Georgetowner. "We are generously deferring near-term obligations, extending lease terms and offering tenants the time to recover," he said. "Essentially, the landlord is being asked to respond as a benevolent lender, which we are doing fairly with all of our tenants. Thus far, I have only heard compliments on our approach."
For Lanier, the old department-store model will need to adapt to survive, especially given the strains of the current crisis. He believes that stores will have to shift to a "more urban model," with a "smaller footprint, lower carrying costs and more technology behind how they shift inventory into different markets and online." Retail stores and restaurants will also have to master web technology and social media, providing customers with "many digital touchpoints along their journey," so they can share their experience with a wider audience, he told Calugar.
THE BID FINDS WAYS TO ASSIST
Joe Sternlieb, CEO of the Georgetown Business Improvement District, is also working creatively with business members to boost the commercial real estate sector. The underlying conditions of the local market are strong, he believes, and the shuttering of national retail stores is more of a national than a local story."
It's not really about Georgetown," he said. "There are seven national tenants in bankruptcy who decided not to reopen — everybody from GNC to Roots and Brooks Brothers — and you've got some folks who are doing national downsizing like Peet's Coffee. Or, there are groups like Paul's Bakery that pulled out of North America." While some local businesses have really struggled during the pandemic, "most of the folks that have closed are not the locals." To assist local businesses during the crisis, Sternlieb said the BID helped to build 20 sidewalk extension platforms for local streateries. As colder weather approaches, the organization is looking into how to allow restaurants to use outdoor electric heaters and comply with fire codes.
In addition, the BID is calling brokers to assist business owners with obtaining loans; asking the city to provide real estate tax relief, to cut red tape and to stop issuing petty fines; and working with EastBanc and Colonial Parking to waive short-term parking fees for Georgetown customers. During the pandemic, the organization is focused on promoting socially-distanced outdoor retail opportunities, including upcoming Georgetown festivals such as Taste of the Town.
On the technology side, the BID will be putting together a Digital Assistance Program "to help retailers who don't have a strong online presence because their business didn't depend on that" before. "We're helping them go online and to understand how their SEO works," Sternlieb said. "And, we're in the process of hiring consultant experts to help with that."